Rogers Centre Seating Chart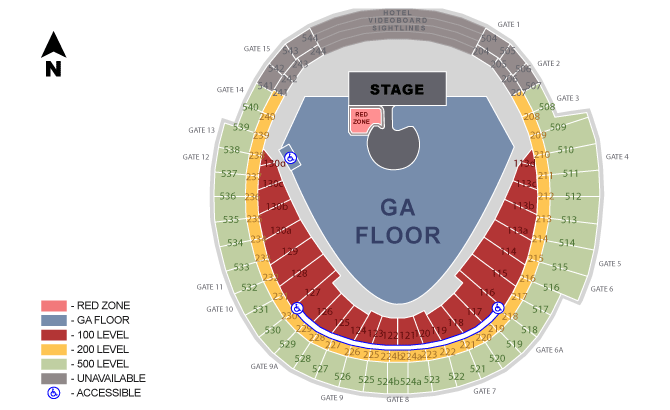 Seating configuration may vary depending on the type of event. Check the individual events seating chart when purchasing your tickets.
The unique design of the Rogers Centre is what gives it its extraordinary versatility for hosting such a wide variety of events. The 100 level seats are based upon a railway track that enables them to rotate between modes for baseball or football. In addition, the stadium features a fully retractable roof enabling the facility to swap between open-air and closed roof during inclement weather, ensuring no event ever needs to be cancelled! Since its solid construction, the Rogers Centre remains largely the same as when it first opened, aside for some cosmetic changes including widened concourses, new video and broadcast technology, and and upgraded suites.
Seating at the Rogers Centre is split into 10 distinct areas; on the 100 level, the In The Action, Premium Dugout, Premium Infield, Field Level Bases, and 100 Level Outfield, the 200 level has the options of the TD Comfort Clubhouse, 200 Level Bases and 200 Level Outfield, and the 500 level features the 500 Level and the 500 Level Lower.
Want to purchase tickets and reserve your seat?
To find out more about the tickets we offer, view the Rogers Centre tickets page.
To see upcoming events and purchase your ticket, please view the Rogers Centre events listing.